Today's economy has had a devastating effect on people's financial future, and there has never been a greater need for what we do.
People need to make more money, save more money and get a personalized financial road map to help reach their goals.
Overall, 76% (of survey respondents) said they always or usually live paycheck to paycheck.1
57% of all workers surveyed have saved less than $25,000 toward their retirement.2
26% of workers expect to work past age 70.2
Only 44% of households have an individual life insurance policy, and 30% have no individual or employer-provided life insurance, according to a recent survey by LIMRA.3
Almost 8 in 10 people don't even have an insurance agent or broker.4
The average American family carries $8,220 in credit card debt, according to Experian analysis of March 2013 credit files.5
There has never been a better time to start a new business with Primerica.
CNNMoney.com, June 24, 2013
The 2013 Retirement Confidence Survey, Employee Benefit Research Institute, March 2013
BusinessExaminer.com, viewed on October 8, 2013
ibid
Creditcards.com, viewed on October 8, 2013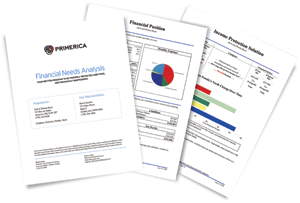 Financial Needs Analysis
Millions of families have benefited from receiving a complimentary Financial Needs Analysis (FNA) from Primerica. Our proven financial concepts can forever change the way people think about and manage their money.
Our simple 4-step process helps consumers start their journey to financial freedom:
Begin with a customized,
confidential FNA.
Make sure you are properly
protected in all aspects of your life.
Get on a path to debt freedom.
Take the steps to become
financially independent.
Primerica has common sense solutions to today's financial challenges.